SOLAR SOLUTIONS FOR BUSINESS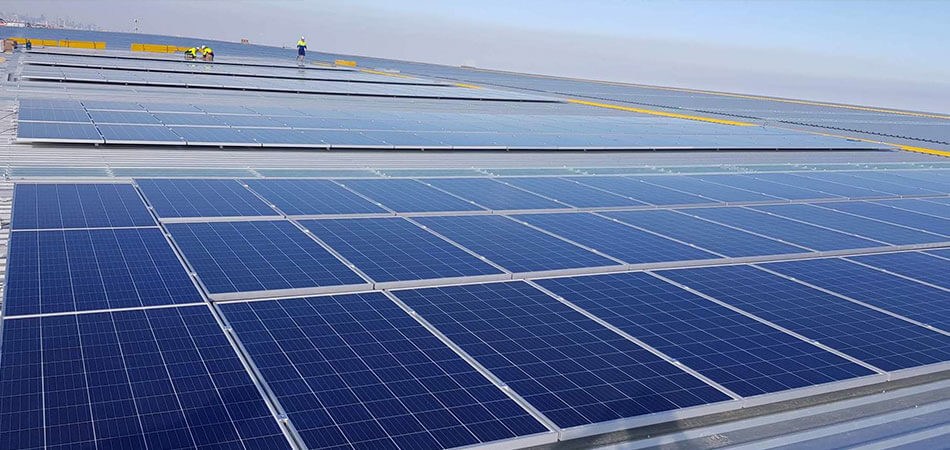 There's never been a better time for business owners to save on rising energy costs and the exciting news is that if you can afford your electricity bills, you can afford the cost of a commercial solar installation.
At N.G Cabling Solutions, our design and installation capability extends to the most sophisticated and complex solutions for commercial enterprises at every level, including our technical team of Master Electricians working side by side with fully accredited Solar Specialists.
With electricity prices rising every year, this ever-increasing drain on revenue can be stopped. A correctly designed Commercial Solar PV system will sever your reliance on the grid and within that newfound independence, help you to retain significantly more control over your finances.
Less understood is that saving on electricity and operating costs with solar is only the beginning of the benefits on offer. Your solar energy production provides you with the opportunity to move into sustainable energy practices. Far from wishy-washy, this brings global, long-term benefits that extend above and beyond the financial returns as business operators who provide their products and services in an environmentally conscious way gain significant status among many target markets in today's globally aware world.
More good news is that with most commercial energy being used between the hours of 9 am and 5 pm, commercial solar solutions also gain maximum returns from such extended exposure to the sun.
We understand that deciding on solar, choosing a system and then choosing which company to go with can be daunting. There is a lot to consider on top of costs, including the difference between residential and commercial sized solar panels, monitoring, maintenance and more. That's why at N.G Cabling Solutions we provide you with solar power experts and a guarantee that includes:
• Working with an A Grade Electrician from the very beginning of your enquiry – no sales people.
• A thorough site visit by an A Grade Electrician to assess the environment of your site and surrounding areas to be able to advise on the right system for your business.
• Provide you with realistic expectations about what you can gain from your solar system.
• Top grade products and warranties.
• Ongoing scheduled maintenance for your site.
Solar power saves you money. Now it's easier to make the switch than ever.
There are rebates available for commercial solar systems through Solar Victoria, in addition to the instant tax write off. To learn how these financial supports can benefit your business and a seamless transition into solar energy, get in touch with us today.